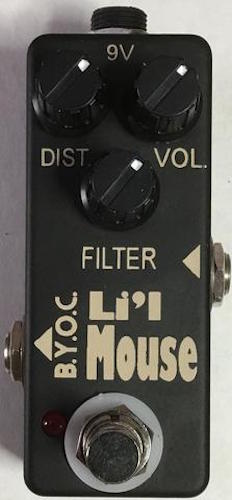 Fully Assembled BYOC Lil Mouse (ProCo Rat clone)
SKU:
Condition: New. Fully assembled and tested from an authorized BYOC dealer!
Notes: A faithful reproduction of the sought after vintage ProCo Rat! Professionally assembled by me. Custom knob / LED colors available upon request. Requires 9 volt DC or battery power (battery not included). Buy with confidence! I build, repair and modify guitar effects pedals. My work is clean and correct. This is not some hobbyist build by a kid in his basement. I guarantee my work for life!
From the BYOC web site: An exact replica of the iconic ProCo Rat. Comes with an N.O.S. LM308 opamp. Metal film resistors and metallized polyester film capacitors deliver spot on vintage tone and at only a fraction of the original size. Despite its small size, the Li'l Mouse uses all through-hole components and panel mounted hardware. True bypass.